"Approach your hip surgeries with the best!!"
SURGEON DRIVEN DESIGN WITH SUPERIOR FEATURES:
SURGICALLY PROVEN FORM WITH SMOOTH, ANATOMIC CONTOURS
LOW-PROFILE LOCK HANDLE SECURES BROACHES WITH EASE
SURGEON-FAVORITE SOFT AND ERGONOMIC GRIP HANDLE IMPROVES GRIP FOR PRECISION IN BROACH VERSION
ENLARGED STRIKE PLATE FOR PRECISE RETROGRADE IMPACTION!
REMOVABLE VERSION BAR - POSITIONS PER SURGEON PREFERENCE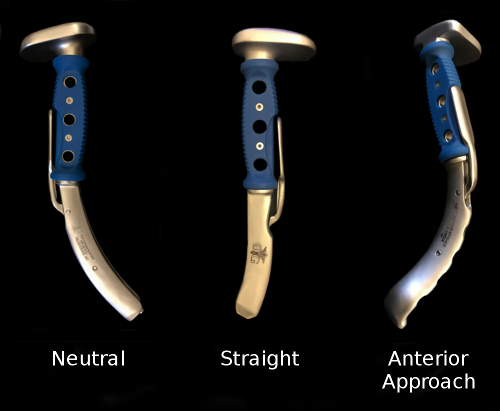 Special introductory pricing with discounts for volume purchases.
Limited quantities currently in stock for immediate shipment.
FREE loaners available, call to request one today!
Call for pricing to UPGRADE to the Gen-3 now !
Place your order: 800-709-4127